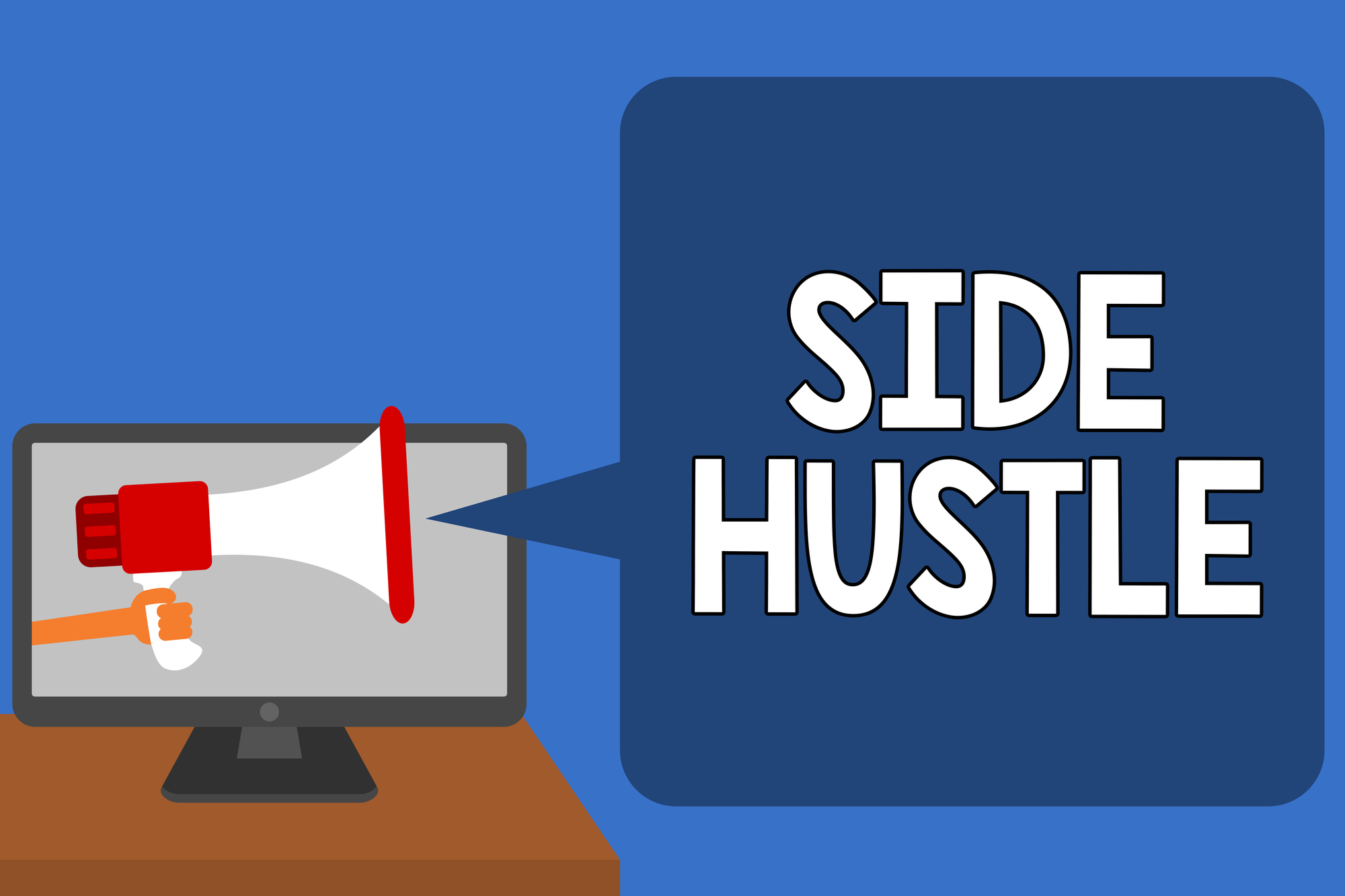 Unfulfilled and need more money?          
A lot of people either do not earn enough money to live or are not fulfilled enough by what they do. Or both! In either case, they have two options. Accept it, and reduce living expenses, or utilise their spare time to escape the "trap". The latter can be considered a side hustle. We are here to take a dive into what it is all about and how to do a side hustle success.
Side Hustle Meaning?
There are two kinds of work outside your job. They can be classified as moonlighting and side hustle. Moonlighting is usually working for another employer. A side hustle is typically something you build on your own or a piece of freelance work. Often, it's a start-up.
Both can be tricky to navigate with your current employment. The way to deal with it is to see all your pieces of work as part of your Business. And remember that the number 1 client is the one who pays the most. In the beginning, it will be your full-time work. Never use their time or resources to work on your side hustle, and always prioritise their work.
Is a Side Hustle Worth It?
Everyone has different circumstances. It's best to put this into a pros and cons list.
PROS
Benefit Your Day job Believe it or not, it can help you with your current job. If you know you have something else to do, you will find ways to get your day job done more efficiently. This has a knock-on for you to spend your free time focused only on your side hustle. Also, the soft skills you learn in your side hustle can complement your day job. Perhaps leadership skills learned can be implemented at work and move you up the ranks!
Money You make more money. This can be used to increase your lifestyle and savings. Who couldn't use a little extra anyway?
Passion Often our jobs are a means to pay the bills. We make choices when young and naïve and feel we get stuck in a none rewarding job. If you choose the right niche inline with your passion you can feel whole again. You can feel like you make a difference.
CONS
Burnout No one can sustain a 16 hour a day lifestyle for weeks or months on end. The occasional long day is not a problem. Make sure you find time for rest and relaxation.
Time You'll have less time with friends and family. If you are going to start a side hustle, have a crucial conversation about it. Make sure your family knows your schedule upfront and what to expect of you.
Side Hustle Success Secrets
Secret 1:
Spend no money: What I mean by this is, try to find a use case first. Even speak to people who are already doing successfully. Make sure that what you are about to do really will work and get you extra money. There are lots of scams out there. I have been burned myself.
Secret 2:
Just Start: It can be slow and tedious at first. Anything new takes time to learn. You are going to want to give up. Breath and just do one thing at a time. Come up with a Daily Method Of Operation.
Secret 3:
Ask For Help: Sometimes it's hard to ask because you feel like you should know it already. It's simply not true. How can you know everything at the beginning? Ask for HELP. And we forget humans want to help! It's hard-wired into us. Check out this post on how to overcome Perfection Paralysis.
Secret 4:
Limit time: You will be more creative as well as save time and money!
Parkinson's Law dictates that a task will swell in (perceived) importance and complexity in relation to the time allotted for its completion. It is the magic of the imminent deadline. If I give you 24 hours to complete a project, the time pressure forces you to focus on execution, and you have no choice but to do only the essentials.
Secret 5:
Have fun: Even if you are just doing this for money enjoy it. It's a journey, so make time to reflect on your successes and make time for family and friends.
Conclusion
There are countless ideas out there to start making money. My current side hustle is this blog, building an online business in marketing. 2 great resources that helped me get started in the online world.
1) Noah Kagan (Facebook employee no 30 and Founder of AppSumo) course:
Monthly 1k Course The revolutionary online course that turns ideas into businesses and businesses into goldmines.
$100, worth it!
2) Six Figure Mentors: Free training :
Are you ready to Launch into the Digital Space?